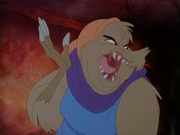 Auntie Shrew is an anti-hero in The Secret of NIMH and a friend of Mrs.Brisby, and former enemy of Martin. Although she appears to be an antagonist, she is actually just rude and a little sarcastic at certain points.
The Secret of NIMH
Edit
In the first film, she first appears when she enters Mrs. Brisby's house to warn the latter of Moving Day. Mrs. Brisby is not present at the time so Auntie Shrew awaits her arrival; during that time, Martin and the Shrew engage in an argument which prompts the Shrew to leave. But before she can, Mrs. Brisby arrives with Timmy's medicine and is told to keep Martin under control and is also told to move her "very odd family". After her first scene in the movie, she appears again where she apprehends Jeremy the Crow in his own string. Auntie Shrew then calls for Mrs. Brisby's children to watch Jeremy as she goes elsewhere. He escapes and meets Mrs. Brisby later during a terrible storm Auntie Shrew get knocked out by a block.
The Secret of NIMH 2: Timmy to the Rescue
Edit
Auntie Shrew later appears as a minor character.